2020 BMW X3 vs. 2020 BMW X5 | McAllen, TX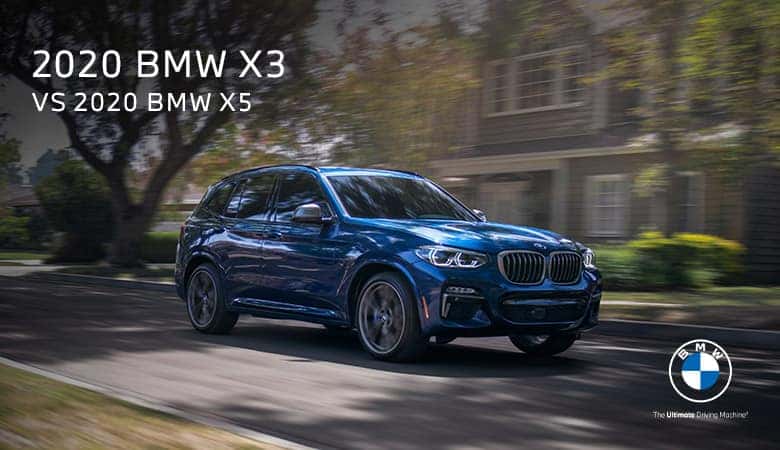 The lineup of luxurious Sports Activity Vehicles® from BMW includes the 2020 BMW X3 and the 2020 BMW X5. Both models are highly efficient, spacious, and deliver unparalleled performance. So how can you determine which is right for you? In short, if you have a smaller family, prioritize fuel economy, and want a lower cost, go with the BMW X3. If you need more interior space and better performance, go with the BMW X5. In terms of safety, infotainment, style, comfort, and convenience, both models will satisfy your needs.
Interior Space
The 2020 BMW X3 comfortably seats up to five passengers, making it great for small and medium-sized families. If you and a partner regularly travel on your own, you can also get good mileage out of the BMW X3 since you can easily fold down the rear seats to unlock up to 62.7 cubic feet of cargo space.
Need more room than that? Go with the 2020 BMW X5. Not only can you opt for an available third row in the BMW X5 to seat up to seven, but you can also fold down rear seating to make even more room for cargo with 72.3 cubic feet of cargo volume.
Performance and Fuel Economy
Performance and fuel economy are always a balancing act, and determining which way the scales fall depends on your preference. If being green and saving on fuel is important to you, go with the 2020 BMW X3, which is powered at the base level by a 2.0-liter inline four-cylinder engine that yields up to 25 mpg in the city and 29 on the highway.* The BMW X5, while also efficient, only yields up to 21 mpg in the city and 26 on the highway with its starting 3.0-liter inline six-cylinder.*
That six-cylinder in the BMW X5 creates more horsepower though, at 335 horsepower, compared to 248 in the BMW X3.
Price
Luxury vehicles can be costly. If you would like to be conservative with your investment, go with the BMW X3, which starts significantly lower than the BMW X5 for 2020.
---
Find out what model is right for you, the BMW X3 or BMW X5, at Bert Ogden BMW in McAllen, Texas.
*EPA estimates. Actual mileage will vary.