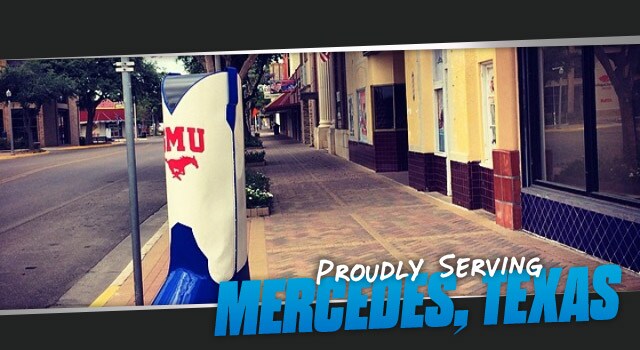 Not far from our dealership, located at 3201 N 10th Street in McAllen, is the awesome town of Mercedes, TX. In fact, Mercedes is just a 30-minute drive (about 22 miles) from Bert Ogden BMW. Being nearby, we are always happy to welcome in Mercedes residents when they are shopping for a new car or just need service on their current one.
Mercedes is small and friendly. The 15,000-plus residents will welcome you with a smile and are proud of their heritage. Mercedes was founded in 1907 by the American Rio Grande Lane & Irrigation Company. It has come a long way in last century. Mercedes is now known as the "Queen City of the Valley" and invites visitors to search the town for the famous 30 cowboy boot sculptures (which are as tall as the average cowboy) spread all over town.
What to Do in Mercedes
After you've hunted down the cowboy boots and gotten your photos, you've still got plenty left to do in Mercedes. Outdoorsmen and -women can stretch their legs at Estero Llano Grand State Park, Frontera Audubon, and the Valley Nature Center. Shoppers can spend the day browsing the Rio Grande Premium Outlets, the Don Wes Flea Market, and the El Disco Super Center.
Where to Eat and Drink in Mercedes
Hiking, shopping, and hunting for cowboy books can work up an appetite. Grab dinner at Cortino's Italian Restaurant, Formacio Pizza, Mi Casa Restaurant, or The Smoking Oak. If you want to sit outside and enjoy a quintessential Texas evening, head to Nana's Taqueria. Tulum Seafood, on the other hand, is the perfect place to dress up and order a blend of Mexican and coastal seafood.
Afterward, get a drink at Tuercas Sports Bar & Grill, Pecker's Neighborhood Bar and Grill, or R & R Tavern.
Whether you're living in Harlingen or plan to visit there, make sure you spend time enjoying the nature and culture of the area. And if you're looking for a new luxury vehicle, plan a visit to Bert Ogden BMW.