SiriusXM® with One-Year All Access Subscription | McAllen, TX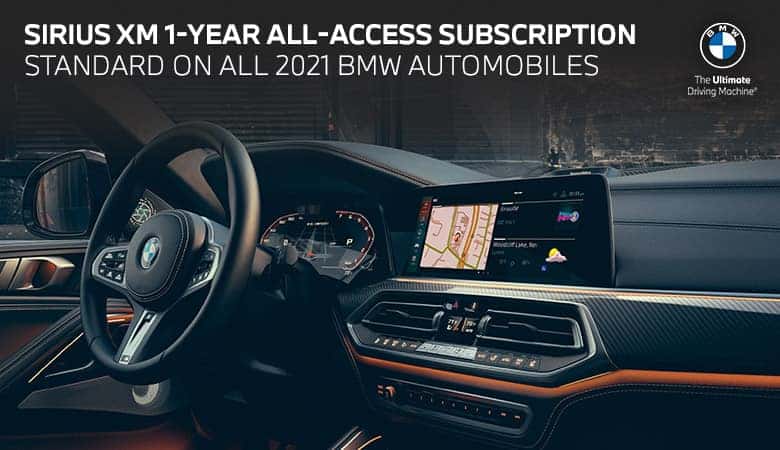 In the fall of 2020, BMW announced an upgrade to the entertainment features of its new cars and SUVs. All 2021 BMW models sold in the United States will come with a standard one-year All Access subscription to SiriusXM®. This change marks an agreement between BMW and SiriusXM® that now extends through 2026 — meaning this is a change we can expect for at least the first half of this decade.
Even more exciting, many of the new models in the 2021 BMW lineup boast SiriusXM® with 360L. This is the company's most advanced audio entertainment platform. It allows you to do the traditional streaming of satellite radio content but also allows you to stream content from your personal smartphone device. This entertainment system will be available on the following BMW models for 2021:
BMW 2 Series Gran Coupe
BMW 3 Series
BMW 4 Series
BMW 5 Series
BMW 8 Series
BMW X3
BMW X4
BMW X5
BMW X6
BMW X7
BMW Z4 Roadster
Any 2021 BMW models, available now at Bert Ogden BMW in McAllen, Texas, that boast SiriusXM® with 360L will get regular software updates to ensure continued top-notch performance. For example, an upcoming software update will include Personalized Stations Powered by Pandora®, which allows you to craft your own unique stations with ad-free music, generate suggestions by providing thumbs up and thumbs down reactions, and even skip songs.
"Offering entertainment options is as critical to us as offering a choice of how you wish to interact with your vehicle to make driving your BMW an exciting experience every single day," said Monika D. Reimel, head of BMW Aftersales Business Development. "This premium experience is what our agreement with SiriusXM® brings to the enthusiastic BMW owners."
BMW and SiriusXM® have a long history of collaborating. SiriusXM® first appeared in BMW models back in 2002 in the early days of satellite radio.
---
Learn more about this entertaining collaboration at Bert Ogden BMW in McAllen, Texas.