Spring Maintenance Guide | McAllen, TX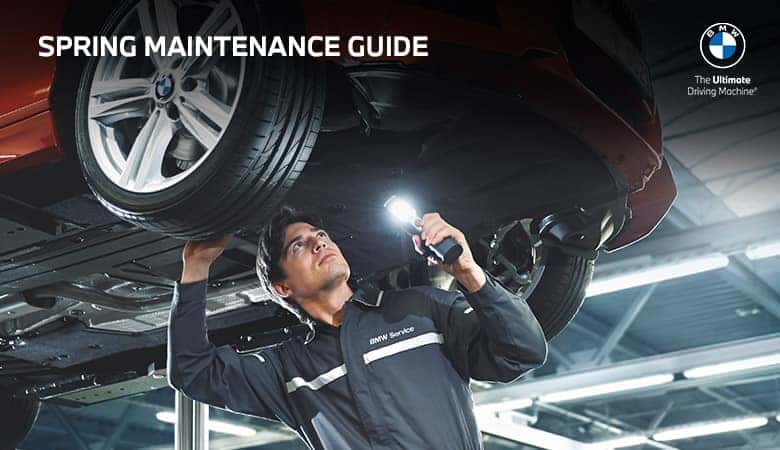 Keeping up with important routine maintenance is the best way to help ensure your BMW model runs just like new. Your owner's manual does an excellent job of detailing all the maintenance milestones you need to consider — but you can leave all the hard work to the trained and certified BMW technicians at Bert Ogden BMW in McAllen, Texas. They are adept at handling the maintenance and repair work on your BMW model.
Each spring, you should consider the following maintenance items for your BMW:
Routine oil change and tire rotation: Spring is a great time to schedule your next appointment for routine maintenance. Though it varies by model, conventional wisdom is every six months or 5,000 miles.
Tire maintenance: Over the winter, your vehicle's tires will lose some pressure due to colder temperatures. Be sure to re-inflate your tires and check the treads to make sure they aren't too worn. Replace as needed.
Wash and wax: Take care of all the snow, ice, and road salt that dirtied your BMW. Washing and waxing does wonders for protecting that exterior paint.
Test out crucial systems: As it warms up, you will find yourself relying on your AC once again. Better to test it now than when it's unforgivably hot, just in case it's not working properly. You should also test your windshield wiper blades to help ensure they aren't leaving streaks. Check that all your exterior lights are operating properly.
Replace your car emergency kit: If you have a winter-specific car emergency kit, swap out the winter coats and gloves for things like sunscreen and insect repellant.
A Note on Maintenance During COVID-19
Your health and safety are our top priority. That's why Bert Ogden BMW offers 100 percent contactless vehicle maintenance options, including key drop-off, curbside service, and car loaners and shuttles. If you must wait at our dealership during service, please note that all common areas are regularly sanitized, and we require mask wearing and social distancing.
---
For all your maintenance needs, contact the service department at Bert Ogden BMW in McAllen, Texas.